Holly Trees, Not Just For Christmas
Posted
5th December 2016
in
Blog
Winter 2010 was an unexpededly long and cruel winter, in fact I had never known a winter as cold in all my 40 odd years. A lot of plants which had up until then and have been since, had been absolutely fine, coming through winter after winter with no problems at all, but that winter we were hit very hard and many plants suffered or completely keeled over, plants and trees everywhere you looked in the landscape were affected.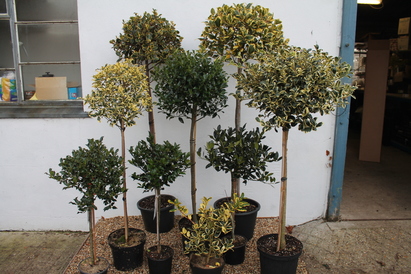 Topiary, particularly standard trees, are an important part of our business, customers want trees to grace an entrance, stand on the patio in a beautiful pot (plant not customer) or for specimen planting. So we needed to think of introducing a new evergreen topiary which would be a great alternative to the more usual evergreen standards such as the Sweet Bay; Laurus nobilis, and be hardy all over the UK, including coastal areas.
In the first years after the big freeze we stocked the amazing Ilex aquifolium 'J.C van Tol' and I. 'Golden van Tol' both awarded AGM (Award of Garden Merit) status by the RHS, these two beauties are cultivars of our native holly, Ilex aquifolium. They have beautiful non spiny leaves, so are wonderful to handle, 'Golden van Tol' has bright sunny yellow varigation and both van Tols are self fertile producing deep red berries.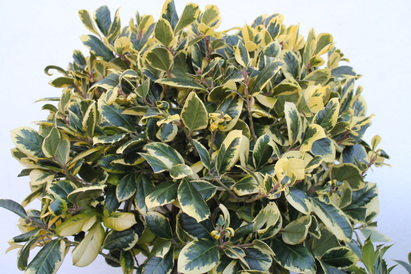 As the years have passed, although with much milder winters, the hollies have continued become so incredibly popular, and we now stock a number of different varieties in various sizes and even have some smaller bushes of 'Golden van Tol' suitable for hedges or to start being trained into a topiary shape. I. aquifolium 'Argentea Marginata', also AGM, has the most beautiful creamy/yellow margins which are flushed with pink on younger foliage and I. aquifolium 'Alaska' (AGM) can be pruned into topiary or left to grow informally where it will have a conical shape or can be a brilliant variety for hedges. I. x altaclerensis 'Golden King' is another stunning varigated holly, so wonderful for bringing light into a winter garden. despite it's musculine name it is in fact a female! With so many to chose from there will be a holly for eveyrone's palette.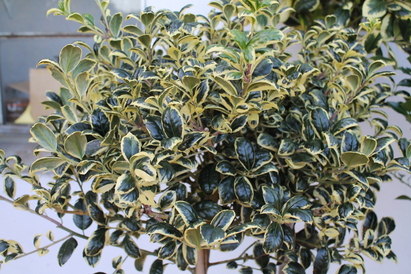 Although we tend to notice the Holly more in the festive season, especially when they are adorned with berries and the foliage is gathered to deck the halls, they really do give great year round interest with their structural quality and shining foliage of varying textures. They are wonderfully easy to look after and thrive in most soils and as mentioned above will tolerate salty coastal positions as well as urban pollution, they can be grown very successfully in raised beds or planters and can be shaped and pruned to our heart's content. There is another important benefit and that is hollies will grow very happily in deep shade, the varigated varieties would prefer a liitle more sun to keep their wonderful colour but will still cope with some shade.
So, naturally, now we are hooked on hollies and over the next few years i'm sure we will continue to add to the collection.