A garden for all seasons
Just before Christmas we completed the redesign of a garden in the charming village of Woodbridge, Suffolk. Our client required a garden that would provide seasonal interest and perspectives that could be enjoyed from both house and pool area.
We created a space that blends contrasting materials with plants chosen for their unique structure, texture and complementing colours.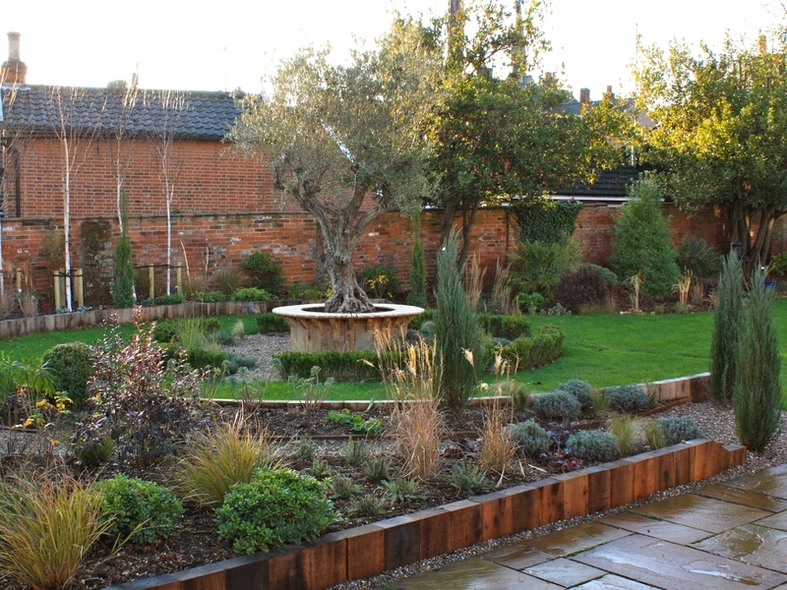 A number of evergreen and deciduous trees form the garden's structural backbone and deliver year round colour. Warm sunny areas move round into more shady parts and an ancient olive, encircled by a bespoke oak bench, boldly stands within a sun loving gravel bed and provides a focal point from the lounge area of the house.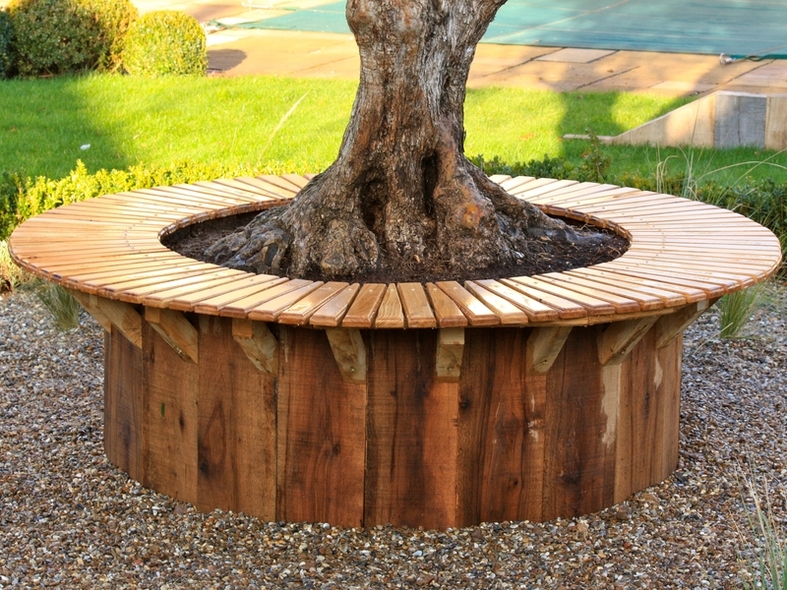 A shingle path meanders from pool area through the northern perimeter borders containing soft herbaceous planting, and a freshly laid lawn provides the canvas for which the rest of the garden sits.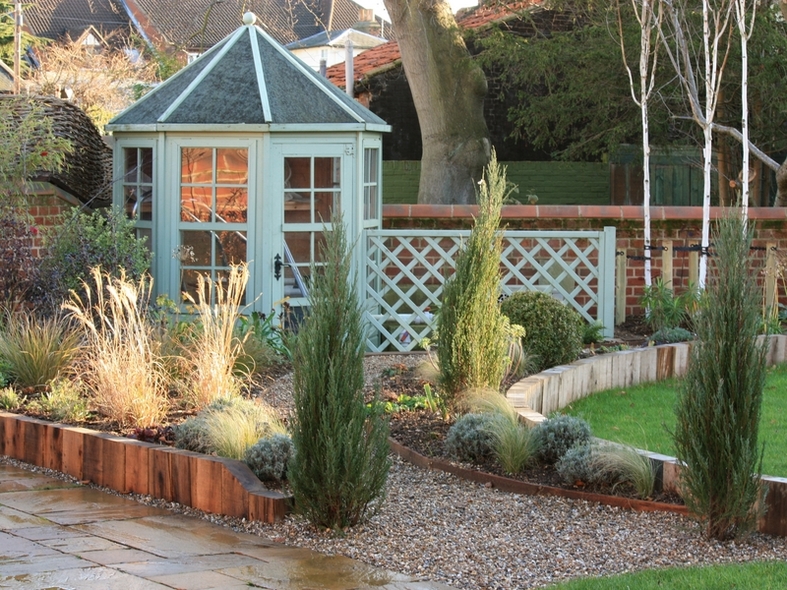 In terms of the colour palette, both the distinctive ghostly white bark of 13 Betula utilis var. jacquemontii and the polished mahogany coloured bark of the Prunus serrula, which looks on fire when the sun's positioned behind it, are attractive throughout the year, especially in bleak midwinter when a touch of colour is most needed.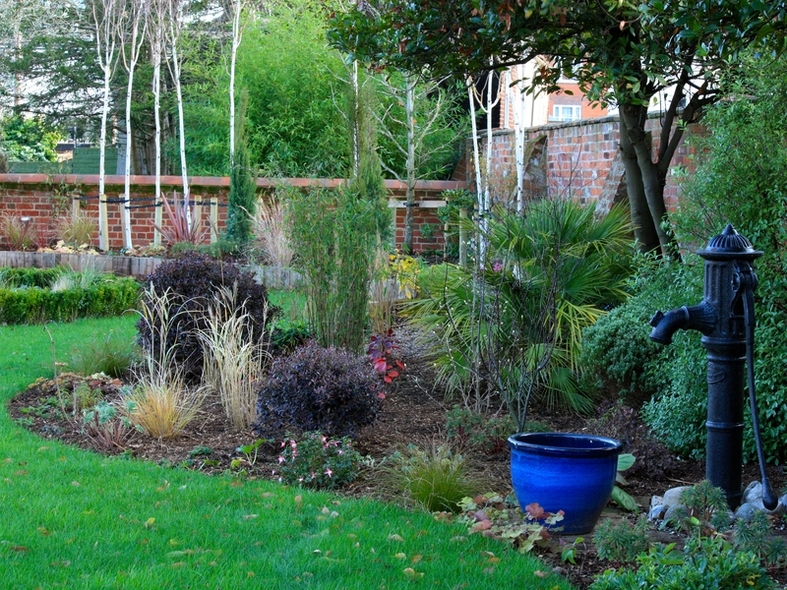 Early spring will see the appearance of delicate white flowers of the Hellebores, and a little later the acid greens of Euphorbia. Irises will produce masses of colourful blooms in early summer before mid-summer plays out a myriad of colour from lavender, Achillea and Agapanthus (which have the added appeal of interesting dried seed heads in winter). The silver foliage of Artemisia, Santolina, Thyme and Lavender all complement summer blues and purples.
The eye-catching, sweetly scented, magenta summer flowers of the Rosa rugosa would make way for autumn hips. While the wine-red foliage of Cotinus coggygria looks stunning in the autumn season as does the Anemanthele lessoniana 'Pheasant's tail grass' whose textural arching habit glows shades of copper, gold and bronze. All of which are under the glare of the large and striking Liquidamber.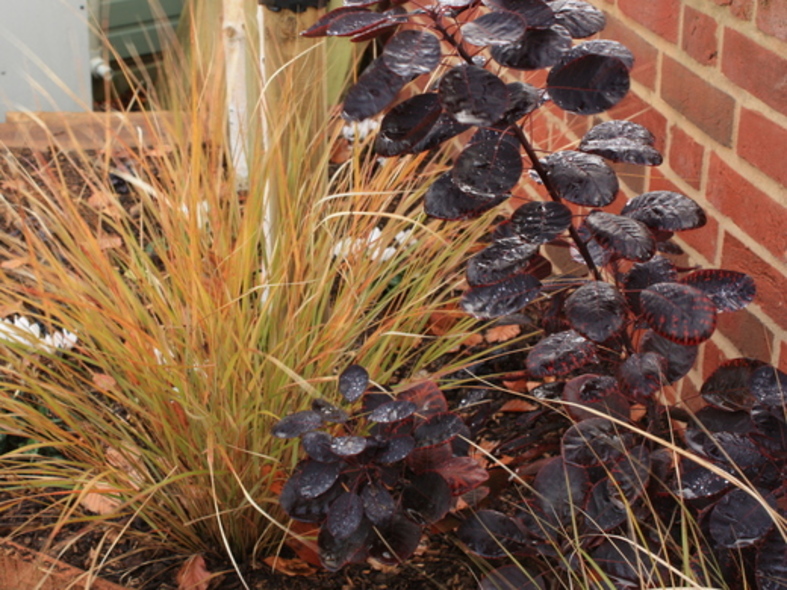 The Cornus comes into its own during the winter months, the flame-red stems contrasting with the birch stems.
The vertical lines of Cypress, the spherical shaped box topiary and the fan shaped leaves of the Chamaerops humilis deliver some permanent shape and greenery, which are softened by various species of feathery textured ornamental grass.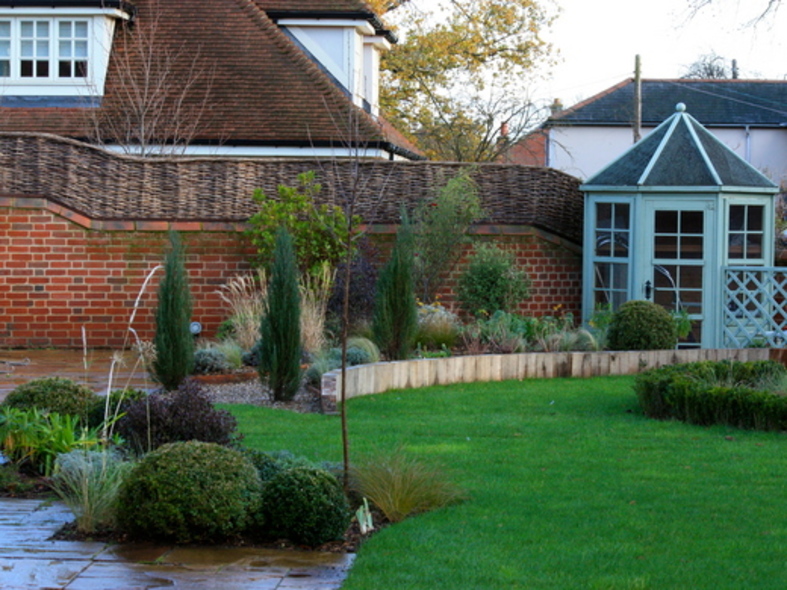 The transformation of this garden through the coming months will be very interesting, with it looking this attractive in winter we can't wait to see it in all it's glory in Spring and Summer!
View a complete set of work in progress images on Flickr.