It's Gold at Hampton Court!
It's always an anxious moment entering the Floral Marquee of any major RHS event on the morning following the previous days judging; for a few moments you hold your breath in anticipation, hoping all the hard work and commitment has paid off.
At this year's Hampton Court Flower Show the nerves were turned into delight, as it was a Gold medal that greeted us on approach. But perhaps even more exciting was the news that we had been put forward for best in show; an accolade we just missed out on to be awarded second best in show. Oh so close.
The layout and structure of our Hampton Court design was a move away from the square, layered design of the Chelsea Flower Show, instead adopting a hexagonal island bed. But like Chelsea, a striking ancient olive took centre stage.
Circling the olive was a spectrum of colour which gently flowed from the hot, vibrant oranges and reds of Phygelius 'Salmon Leap', Kniphofia 'Tawny King', Achillea 'Wesersandstein', and Achillea 'Walther Funke', interwoven with the dramatic Scabiosa atropurpurea 'Chile Black', through to the cooler silvers, blues and whites of Artemisia 'Powys Castle', Agapanthus africanus 'Peter Pan', Agapanthus 'Blue Brush' and Agapanthus 'Windsor Grey'.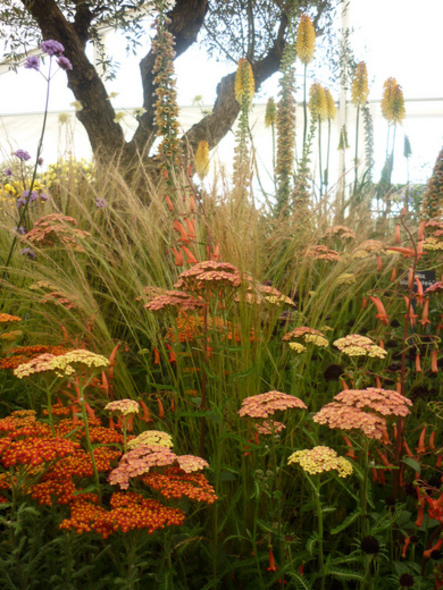 The big show stopper was the Stipa barbata, with its platinum ostrich-feather awns it really was looking its very best, in full flower it's the showiest grass of all. Beyond its beauty, the way Stipa barbata self seeds is one of nature's most fascinating achievements. Each seed that's dispersed has a long sharp point connected to a fine feather. Once the seed lands, the feather coils up like a corkscrew which unravels in damp weather. This movement gradually drills the seed into the soil.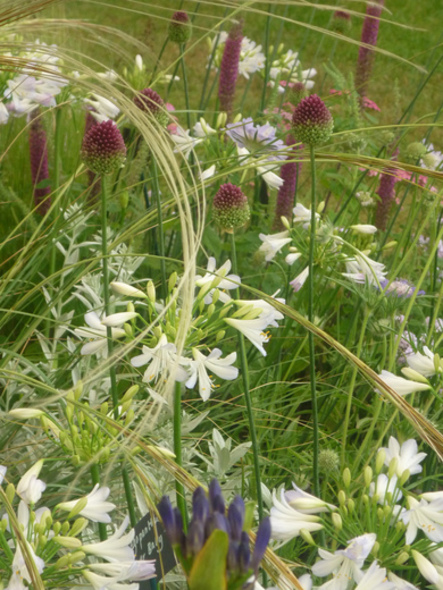 In contrast to the soft and shimmering Stipa barbata, a gravelled bed of distinctive looking succulents and cacti occupied their own section of the design. Species like Agave montana, Agave utahensis, Agave parryi, Agave gentryi, Sempervirens and Echeverias added extra personality and drama.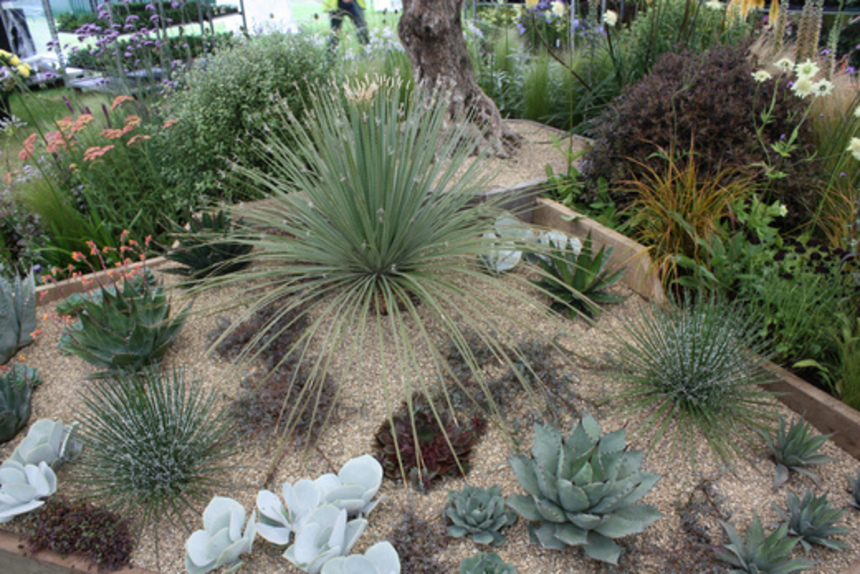 You can view all our Hampton Court Flower Show images on Flickr.