RHS Tatton Park Flower Show 2013
Where do we start....
The 30+degrees heat that we had to load all our trollies in or the monsoon rain that we then loaded the lorry in or the 5 hour drive in biblical style rain or this...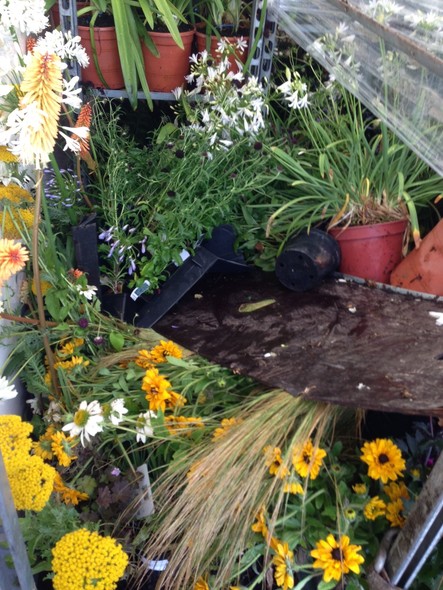 Not the happiest site that has ever greeted me when opening the trailer doors (the most shocking was 6 immigrants from Burkina Faso! but thats another story)
Our three trollies of display plants has collapsed on route and two thirds of the plants were trashed to the extend they were not even savable in the long run and went straight for the skip! So months of growing time, many many hours loading and transporting to find ourselves 5 hours from home with nothing to display and a day to do it in!! Time to raid the sales plants trollies. Luckily we are pretty good at growing :) and are sales plants were looking great, the only problem was that they are small plants compared to the display plants so we ended up using 6 sales plants for every display plant. Time was getting tight, so tight that even me (Mark (the club fisted logistics man and definately not creative director)) was press ganged in to display planting! With a little help from our friends (many thanks to Hookgreen Herbs for making an extra trip from there nursery to bring us some more plants) we got the display finished in time. Dispite being well below our normal standard I am still proud of the display with all things considered and especially proud to still manage to get a Silver medal at an RHS flower show the most prestigous hortiultural institution in the world.
Now to end on a postive. We included in the display a trio of Citus trees an Orange (Citrus sinensis), Lemon (Citrus limon) and a Lime (Citrus aurantifolia). The scent of these trees was simply intoxicating. It was great fun watching people walk past the display and stop to find the source of the scent. Citrus trees are simply outstanding, beautiful evergreen trees with the most amazing scent and they bear fruit. Its about all you could ask of a plant! So a poor show for us (we had bugger all to sell after robbing all the plants for the display) but we did get to smell the wonderfull Citrus trees for a few days, absolutley worth it!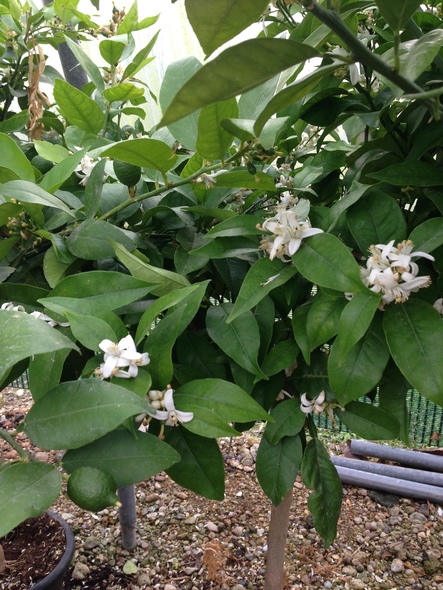 Citrus sinensis (Orange tree) in blossom